6.0 Economic Employment and Development
Wunnumin Lake First Nation has an Economic Development body that oversees economic and business activities. The office is located at the basement of the General store with three staff (EDO, business operation manager and secreatary). It is governed by the Chief and council and there is a Economic Development Board. Only a few private businesses exist in the community. For example, a laundry mat (see picture 39) is being operated from this Economic Council.
Another entity is the Chee-kee-sis Petro Inc., (see picture 40) which is operated by Wunnumin Lake First Nation. This organization sells fuel and gasoline to the community. All fuel is stored in a tank farm at the airport and a gas station beside the O&M garage. For inquiries contact the Band Administration O&M. Tel. # (807) 442-2555 or 442-2559 or 442-2565.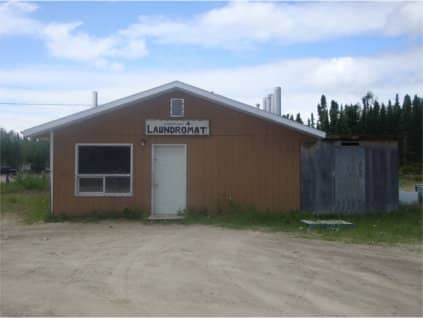 6.1 Services and Accommodation
Wunnumin Lake First Nation owns an Accommodation Building. (see picture 41) This establishment is operated under the Pipestone Economic Development. It is a modern 5 room premises which consist of a kitchen with appliances and fully furnished. The building has electricity, free wireless internet, indoor plumbing and is not wheelchair accessible. For reservations call Band Office. Tel. # (807) 442-2555 or 442-2559 or 442-2565.
There is a Coffee Shop (see picture 42) in the community with a full kitchen and a dining area. It has plumbing and electricity. If you want to rent on a daily basis or weekly contact the Economic Development office. Tel. # (807) 442-2518
Cable television was installed in 1990; and Internet was installed in 2001 is serviced to the community with a monthly fee through Pipestone Economic Development. Cable system and internet provides people a leisure activity. Since the start, the internet was dial up and it was only provided at the band office, nursing stations, school and Wahsa. In 2004, dial up was provided to the community, eventually to broadband in 2007. Now, majority of the people has access to the internet and has become popular in the community as a way to communicate in the World Wide Web.
There is a community general store operated by the Economic Development. It sells groceries and confectionary items. It is opened from 12pm to 8 pm daily from Monday to Friday. On Saturdays opens from 12pm to 6 pm. Tel: (807) 442-2671
6.2 Business Ventures/Partnerships
Wunnumin Lake First Nation has partnership and joint ventures with outside businesses and/or other First
Nation communities which are 100% First Nation owned.
Wasaya Airways which has been in operation for 21 years and owned by 10 First Nation Communities. The communities get monetary dividends and social support for being shareholders of the company. To make reservations call: toll-free # 1-877-492-7292 Website www.wasaya.com
Wunnumin Lake First Nation is a partner in General Partnership Agreement along with other First Nation communities, Wasaya Group Inc. and Rainy Lake Tribal Development Corp. that jointly purchased the Landmark Inn that is located in Thunder Bay along the highway 17/11 respectively. To make reservations call: toll-free # 1-800-465-3950 or tel # (807) 767-1681 Website www.landmarkinn.ca
First Nation LP, which owns the property and building in Sioux Loookout, which is leased to McDermid Lumber Building.
KW Enterprises which is a joint venture between Wunnumin Lake and Kingfisher Lake. They provide a passenger service for the Musselwhite mine employees to get to work and back home using Wasaya Airways.
BBH contracting is for Musselwhite mine property maintenance. The contract is a joint venture between Wunnumin Lake and Kingfisher Lake. The employees are responsible for maintaining the premises.
Ontario First Nation General Partners LP, there are 135 First Nation communities in partnership and they own the Casino Rama located at Rama, Ontario. The only First Nation casino in Ontario.
6.3 Musselwhite Mine Agreement
Wunnumin Lake First Nation with other First Nation communities came into an Impact and
Benefit Agreement (IBA) in 1996 but was renewed in 2001, which includes compensation and revenue sharing based on monthly production. Musselwhite gold mine is located along the southern shore of Opapimiskan Lake. It was slated to be closed in 2013, but may extend to 2020 due to new discoveries.